Lawyer Argues Kansas Anti-Abortion Activist Tried To Intimidate Doctor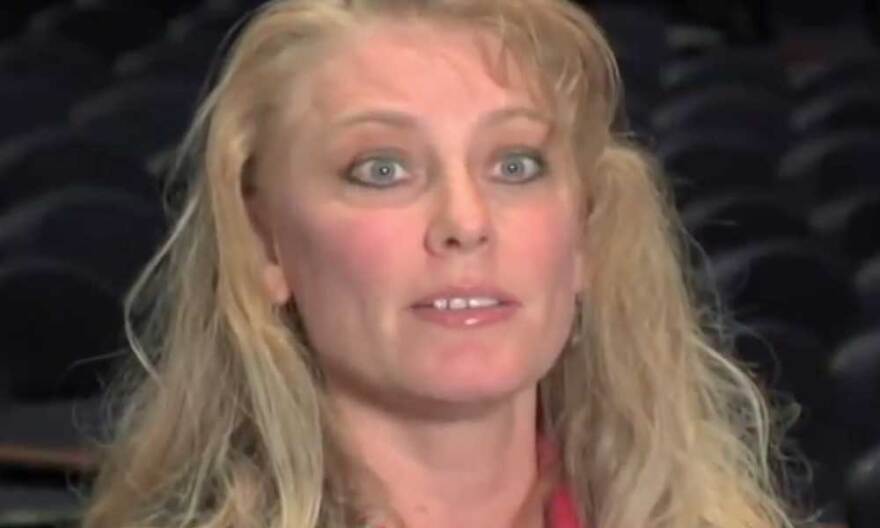 A woman was in civil court today under a charge that she threatened a Wichita doctor who was at the time training to perform abortions.
Angel Dillard sent a letter to Dr. Mila Means in 2011 saying, in part, that, "They know where you shop, who your friends are, what you drive, where you live," and, "You will be checking under your car everyday [sic] because maybe today is the day someone places an explosive under it."
Dillard's lawyers argued that the letter was meant to "help" Means and that Dillard believes only in peaceful opposition to abortion rights. The lawyer for the Justice Department countered that the letter was an attempt to intimidate the doctor.
The case comes under a federal law which protects the rights of women's access to abortion facilities, and the suit asks for an injunction against Dillard and a $15,000 penalty.
In question is whether or not the letter was a true threat.
More from the AP:
An anti-abortion activist intended to intimidate a Wichita physician when she sent a letter suggesting someone might place an explosive under the doctor's car, a Justice Department lawyer told jurors in opening statements in her civil trial Tuesday.
Lawyers for Angel Dillard, however, have said the remark was a warning meant to help Dr. Mila Means, who was training to become an abortion provider at the time. Attorney Theresa Sidebotham said during her opening remarks that the government is trying to silence the free expression of views it disagrees with, and she assured jurors that Dillard only believes in peaceful opposition to abortion rights.
The conflicting portrayals of Dillard's motives for sending the 2011 letter and Means' reaction to receiving it are expected to be key in a case in which jurors must decide whether the letter constituted a "true threat."
The lawsuit, filed by the Justice Department's Civil Rights Division, was brought under a federal law aimed at protecting women's access to abortion services. It seeks a court order that keeps Dillard from contacting Means or from coming within 250 feet of her or her home, car or business. It also seeks damages of $5,000 to Means and a civil penalty of $15,000.
After the lawsuit was filed, then-U.S. Attorney Barry Grissom said the Justice Department pursued a civil case rather than criminal charges because the legal standard needed for an injunction is lower than "beyond a reasonable doubt," which is required for a criminal conviction.
At the time Dillard sent her letter to Means, abortions hadn't been openly performed in Wichita since the killing of Dr. George Tiller two years earlier. Tiller, who was one of the nation's few late-term abortion providers, was gunned down by an anti-abortion zealot while at his church in Wichita.
Dillard wrote that thousands of people from throughout the U.S. were scrutinizing Means' background and would know her "habits and routines."
"They know where you shop, who your friends are, what you drive, where you live," the letter said. "You will be checking under your car everyday because maybe today is the day someone places an explosive under it."
Sidebotham told jurors that the FBI agent who investigated didn't believe the letter was a threat, and that the agent recommended against the Justice Department bringing the lawsuit because it would undermine the agency's trust with anti-abortion activists.
Justice Department lawyer Richard Goemann told the court that "words are like stones dropped from great heights," and that Dillard intentionally dropped those words on Means in order to intimidate her from doing abortions in Wichita.
He also urged the jury to consider her association with Tiller's killer, Scott Roeder, and remarks she made to The Associated Press during a July 2009 interview.
"With one move, (Roeder) was able ... to accomplish what we had not been able to do," Dillard told the AP. "So he followed his convictions and I admire that."
Sidebotham insisted that Dillard didn't make a threat, and had no intention to do that because violence is against her moral philosophy. The tension between abortion opponents and abortion rights supporters was heightened in Wichita by Tiller's murder, and Sidebotham said the government is using that context to shut down free speech.
Means eventually decided not to offer abortion services at her medical practice.
--
Aileen LeBlanc is news director at KMUW. Follow her on Twitter @Aileen_LeBlanc.
To contact KMUW News or to send in a news tip, reach us at news@kmuw.org.