Longwell, Whipple Head To November Election For Wichita Mayor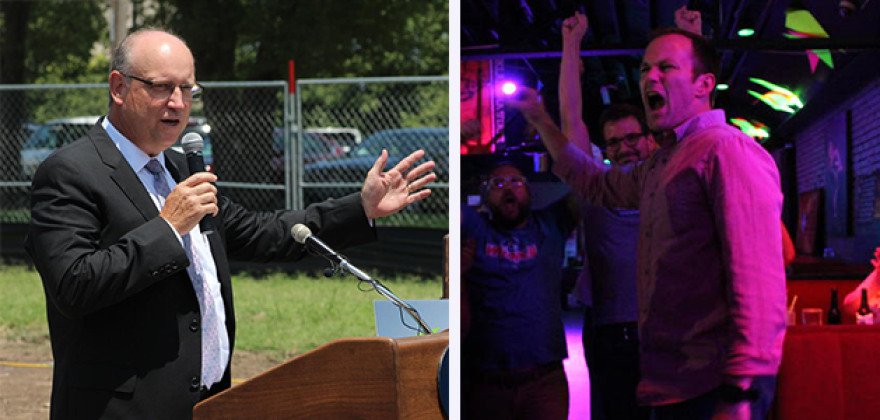 The nine-person field for Wichita's next mayor has been narrowed to two.
In a tight primary race Tuesday, incumbent Mayor Jeff Longwell and Kansas state Rep. Brandon Whipple topped seven other candidates to advance to the general election ballot in November. Unofficial results show Longwell received 32.3 percent percent of the vote; Whipple received 25.9 percent.
Speaking at his watch party at a bar in Wichita's Old Town, Whipple said he felt like the underdog in the race, raising thousands of dollars less than Longwell.
"I came into this being in peace of whatever the outcome is going to be," Whipple said. "I am not surprised that we won, but also a little surprised that we were able to beat these odds."
He said the results show Wichita voters want a change.
"We're going to let Longwell talk about baseball, and he can go get those 30 percent," Whipple said, "but we're here for the rest of Wichita, not just the richest areas."
Longwell says he's running for a second term on a platform focused on public safety, infrastructure and quality of life.
"Those three things are the key to building a more successful community that we'll all be proud of," he said Tuesday night.
More than 22,000 people cast votes in the primary for mayor and a seat on the Wichita School Board. Turnout was 9.8 percent, about on par with recent mayoral primaries.
Local general elections usually see a higher turnout, but turnout has been less than 20 percent since 2007.
Only 160 votes separated Whipple from businessman Lyndy Wells, who came in third after carrying a slight lead over Whipple earlier in the night.
Wells, a first-time candidate, says he wouldn't have done anything differently in his campaign.
"I think I worked hard, I worked honest, I tried to keep integrity in the process, I didn't intend to disparage anyone," Wells said. "People needed to select me, not necessarily against me so I didn't want to give them any reason to do that.
"I was encouraged by the quality of endorsements that I received … I could've knocked on more doors I suppose but we ran out of time."
He said he's waiting for the results of Monday's vote canvass before endorsing either candidate. Provisional and advance ballots still need to be counted and that possibly could change the outcome of the election.
"I'm not going to offer anything until I know what the final votes are," Wells said. "We need to be confident until the very end."
The two top vote getters will head to the general election on Nov. 5. Three City Council races will also be on the ballot, for Districts 2, 4 and 5.
In the four previous mayoral races dating back to 2003, the winner of the primary went on to win the general election.
Here are the unofficial primary results:
Jeff Longwell | 7,136 votes (32.3%)
Brandon Whipple | 5,729 votes (25.9%)
Lyndy Wells | 5,569 votes (25.2%)
Amy Lyon | 1,412 votes (6.4%)
Mark S. Gietzen | 1,309 votes (5.9%)
Brock E. Booker | 435 votes (2.0%)
Ian M. Demory | 231 votes (1.0%)
Joshua M. Atkinson | 152 votes (0.7%)
Marty Mork | 135 votes (0.6%)
KMUW's Stephan Bisaha and News Lab interns Kevin Benavides and Kylie Cameron contributed to this story.