NPR and KMUW are thoroughly committed to monitoring COVID-19 activity and its potential impact on your lives. We are continually updating kmuw.org with the latest news.
Sedgwick County Hits The Brakes On Its Drive-Thru Vaccination Clinic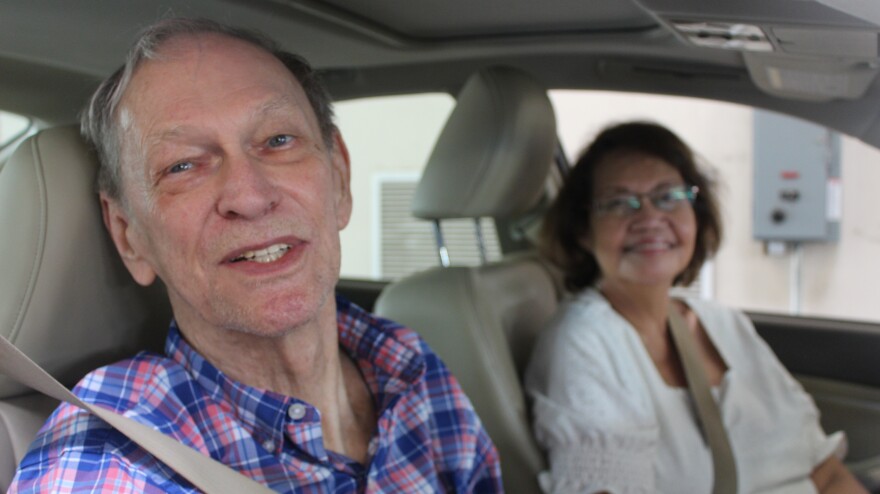 The Sedgwick County Health Department discontinued its drive-thru vaccination clinic Thursday.
Director Adrienne Byrne said turnout decreased drastically in the past two months, with averages of six to eight vaccinations a day in May. June saw an average of no more than four a day.
Robert Butler was one of the last people to get vaccinated at the drive-thru clinic, which was located downtown at the Wichita Transit Operations Center. He got the Johnson & Johnson vaccine.
"Everybody in the family has been vaccinated, and I can't have my grandkids over anymore unless I get the shot," Butler said. "So, I've given in, and I'm getting the shot."
Byrne said family peer pressure is just one of the reasons why people who have waited are now getting their vaccinations.
"They're saying, 'Well, my work is encouraging me to. …I don't want to be excluded from any events that might come to Wichita. Enough time has gone by that there haven't been people getting sick … from the vaccine.' "
Experiencing life-threatening complications from the vaccine was one of Butler's worries. He said he knew those cases were rare, but still felt concerned that it could happen to him.
"I'm retired," Butler said. "I stay at home all day, so I don't get out much. I'm not going to catch it anywhere. I don't think I'm going to give it either.
"But anyway, it's better to be safe than sorry. That's why I'm here."
Byrne said that even with the drive-thru clinic closed, people who can't get out of their vehicles can still get a vaccine at the main clinic at the former downtown library. Staff working there have gone outside to administer shots before.
The main clinic also has seen a decrease in attendance. In the past couple of weeks, numbers dropped from about 200 vaccinations a day to about 150. The health department is responding by decreasing the number of workers at the clinic, but the hours of operation will stay the same for now.
Byrne said the department is still working with the National Advisory Committee on Immunization Practices to determine when it will have to start administering vaccine booster shots. That could affect vaccination clinic hours, but Byrne said any future clinic closings or adjustments to hours of operation will be announced weeks in advance.
Katelynn McIlwain is KMUW's Korva Coleman Diversity in Journalism intern. She will be a senior this fall at the University of Missouri.