KS Attorneys Want To Add New Plaintiff To Voter Citizenship Lawsuit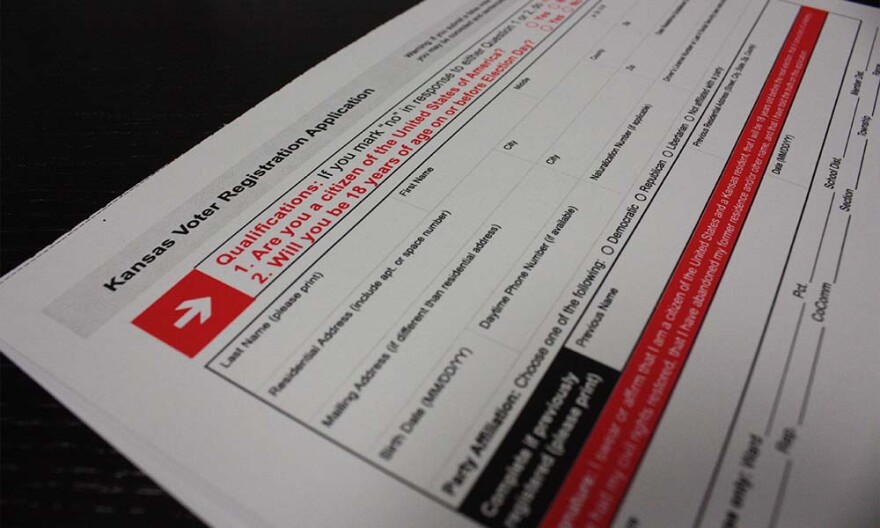 An effort to repeal a controversial law requiring proof of citizenship before voting in Kansas elections is being challenged further.
The lawsuit, originally filed by Lawrence attorney and former state Rep. Paul Davis on behalf of two Lawrence residents, challenges the constitutionality of the 2013 Kansas law requiring new voters to document their U.S. citizenship when registering.
The lawsuit also seeks an injunction to prevent the state from enforcing a regulation that requires county election officers to cancel all incomplete applications after 90 days, The Lawrence Journal-World reported.
Attorneys for the plaintiffs filed a motion last week to amend their complaint, adding a 20-year-old Kansas University student, Parker Bednasek, as a plaintiff. If approved, he would serve as a representative of all members of the class of people whose voter registrations are being blocked for failure to show valid proof of U.S. citizenship.
Will Lawrence, one of the local attorneys involved in the case, said Bednasek was born in Oklahoma and grew up in Texas before moving to Douglas County to attend the University of Kansas. Lawrence said Bednasek canceled his Texas voter registration, then tried to register to vote in Douglas County on Dec. 3 but was told his application would be placed "in suspense" for failure to show valid proof that he is a U.S. citizen.
The effort to certify the lawsuit as a class action lawsuit is aimed at preventing Kobach's office from fending off challenges to the law by approving the registrations of anyone who files a lawsuit, according to attorneys in the case.
A spokesman in the office of Secretary of State Kris Kobach said their attorneys will seek an extension to respond to the motion to add Bednasek as a plaintiff. He would not say if Kobach intends to challenge the attempt to certify the lawsuit as a class action.
--
Follow Aileen LeBlanc on Twitter, @Aileen_LeBlanc
To contact KMUW News or to send in a news tip, reach us at news@kmuw.org.