Wichita Riverfest Overall Attendance Dips Slightly Due To Stormy Weather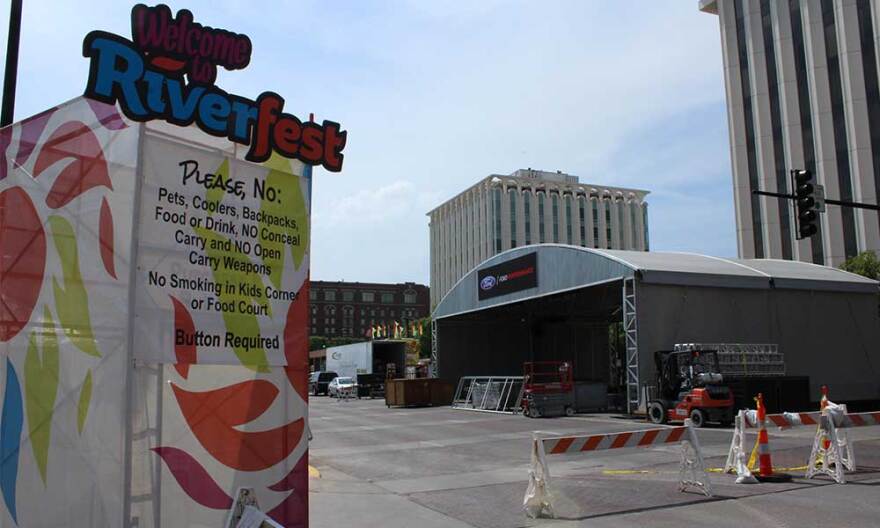 Stormy weather last week affected overall attendance at this year's Riverfest in Wichita.
Wichita Festivals, the nonprofit that runs Riverfest, says about 445,000 people took in concerts, activities and fireworks during the nine-day downtown celebration that wrapped up Saturday.
Wichita Festivals president Mary Beth Jarvis blames a mid-week thunderstorm for the 4% drop in attendance from last year.
Jarvis says she is glad that people "punched through the adversity of having a swollen river and no river events" to enjoy the festivities.
Storms in the weeks prior to Riverfest pushed the Arkansas River over its banks and forced the festival to cancel water events. The river receded enough that people could walk on the river paths by the last few days of the festival.
Saturday was Riverfest's biggest draw: About 35,000 people packed Kennedy Plaza for the featured concert, Sublime with Rome. The closing night fireworks drew a crowd of about 60,000 people to wrap up the 48th Riverfest.
Jarvis says Saturday not only had the highest attendance, but it also had the festival's highest food and beverage sales in 13 years.
Twenty new events such as Project PopCon, cornhole and drone races debuted at Riverfest this year, and other programs like the River Run and car shows are growing.
"Folks are voting with their feet that they love a lot of the things that Riverfest has become over the years, so we are going to do our best going forward to honor 48 years of history and create the next 48 years as something that Wichitans can continue to be very proud of," Jarvis says.
The popular Sundown Parade used a new route this year, which Jarvis says they will likely repeat next year after receiving some "wonderful feedback."
"Folks enjoyed that additional shade provided by the buildings on Main and Market streets," she says, "and logistics worked out pretty well."
The weather also created controversy for Riverfest when organizers decided to end a concert early Wednesday night. Jarvis says a storm threat forced the abrupt end to hip hop artist Talib Kweli's show, not his profanity-laced content.
"It's unfortunate that folks misinterpreted our actions, but my decision-making was all about keeping folks safe," Jarvis says. "The artist at the time was gracious about it, which I appreciate."
Hundreds of people left comments about the incident on Wichita Festivals' social media channels.
The festival canceled Hutchinson-based reggae act the Ziggowatts' performance Saturday evening due to the size and space requirement of the combined touring package for the national headliner, Sublime with Rome.
The festival reported six arrests during the nine-day event and 10 EMS transports.
Nearly 9,000 volunteers worked the event.
Riverfest began in 1970 as a one-day event to recognize Wichita's centennial. It has grown into the largest community event in Kansas.
Follow Deborah Shaar on Twitter @deborahshaar. To contact KMUW News or to send in a news tip, reach us at news@kmuw.org.