Seeing Santa And More: Memories Made At Botanica's Illuminations
Wichita's Botanica puts on a nightly Illuminations show each year for more than 30 days. More than two million lights are spread throughout 18 acres of gardens; it takes a team of staff and volunteers to keep the annual display shining brightly.
Before the gates open each night, pre-show preparations get the garden ready for visitors. It takes Botanica staff and volunteers 30 minutes to an hour just to turn on all the lights.
The giant holiday displays, trees covered in lights and themed attractions are set up on breakers. Other items need to be plugged in by hand.
"We're trying to make it streamlined as possible to make it easier for our staff and volunteers to get all the lights on in a timely fashion," says Kathy Sweeney, director of special events at Botanica.
She does a walk-through about an hour before the show starts.
"Every day, there's always some kind of prep or extra things that need to get fixed. Different lights go out; breakers go out. We're always tweaking and adding even after the doors are open," Sweeney says.
Electrician Tom McReynolds goes around the gardens too, to make sure anything that needs to be fixed, gets fixed. He has been helping with Illuminations for about seven years and rotates shifts with two other electricians.
"Somebody's here every day and then somebody spends the night. So I'll be here until 10 o'clock tonight to make sure everything turns off, and it all works," McReynolds says.
The lights and the thousands of luminaries that line the paths are electric. Botanica started switching to LED bulbs about six years ago.
"We're about 98 percent all LED, which has taken years for us to get to that point," Sweeney says. "So it is energy-saving, and they are a lot sturdier than the incandescent [bulbs]."
Botanica has a small staff, so it relies on dozens of volunteers to put on the light show every night. Illuminations is Botanica's largest fundraiser that goes to support the maintenance and growth of the gardens.
Carolers, ballet dancers and musicians from various community groups and schools give up part of their evening to provide live entertainment. Teens and adults who want to volunteer are assigned jobs throughout the gardens. Some are line monitors, others guides or greeters, and some work at the food stations.
One of the most popular volunteers is a big man in a red suit: Santa.
Dick Rader is one of a few Santas on duty at Illuminations. He retired from Boeing and was a summertime Botanica volunteer. He says one day about five years ago, a staff member asked him to consider taking on the Santa role.
He has a convincing look even before he puts on the famous suit. With wire-rimmed glasses and white hair, Rader also has a full white beard.
"Well, I start growing it in August. I go every four weeks and have it trimmed and shaped," he says. "So now we're in the big hurrah, and then in January, I'll get it cut back off."
He takes this special job seriously because he knows he's making memories when children come to see him.
"Santa's kind of a mystical guy, and so they kind of expect you to know everything. So I try to engage with them, and make them feel at ease," Rader says.
Another popular area is the large meadow. Hundreds of light strands cover the ground and up to the top of 20-foot tall trees. The area comes alive when the music starts. Six songs rotate throughout an evening.
Lee Lindquist is the so-called "light master" behind the dazzling display. He can program every single lightbulb so they dance to the beat of the music.
"Lee's been with us for eight years now," Sweeney says. "He goes to lighting conferences all over the U.S. to learn about different lighting techniques. Every year when we come back, we're like, 'What's his new idea going to be, and how much is it going to cost us?'"
Illuminations is nearly 30 years old and is considered a place where holiday traditions are born. Volunteers often come back year after year, and so do visitors. More than 80,000 people saw the illuminated gardens last year.
The challenge for staff like Sweeney is making Illuminations a new experience year after year.
"We always try to have at least two or three new scenes each year," she says. "But with that, we spice up some of our old ones every year. We move things around."
New this year: Illuminations added snow machines, 30 new white trees and laser lights.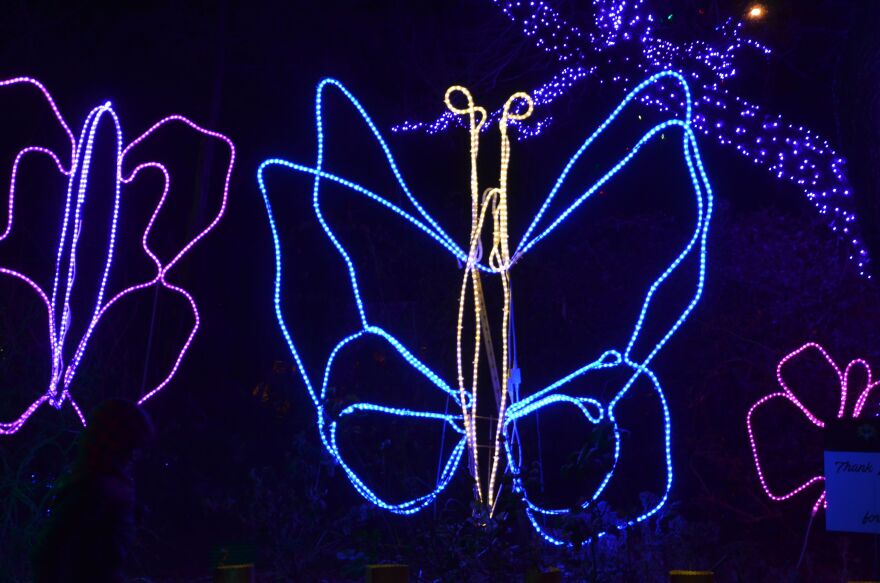 Some parents who first came as children are now bringing their own kids. Families and couples make a point to get a picture in front of the same illuminated background they used before. A lot of marriages get their start at Illuminations too.
"I bet we average probably about one proposal a night," Sweeney says. "On weekends, there could be multiple, which is very special."
One couple lives in Kansas City and drives back each Thanksgiving because Illuminations is where they had their first date.
"Their little anniversary is coming back and celebrating so it's always kind of fun opening night to look for them," Sweeney says.
Last year, she received a special request from the Make-A-Wish Foundation.
"This little boy…his last wish was to come to Illuminations," Sweeney remembers. "The fire department brought him over in his gurney and we wheeled him around, so that was really cool. It gets me every time…every time I tell the story."
Many of the light displays and holiday scenes are stories of lasting legacies. The towering arches on a walkway came from the Sedgwick County Zoo. The Santa train, workshop and barn near the children's garden were donated by a Wichita family who had the display on their circle driveway for many years. Light beams aimed at the night sky came from a rock band.
"The band Queen was just ending their tour, so we bought half of their set," Sweeney says. "So a lot of our new lights came from their music tour, which is kind of cool."
Illuminations runs through New Year's Eve. After that, staff and volunteers will take down all the lights and displays and move them into a warehouse for storage. Sweeney says planning has already started for the 2019 show.
Follow Deborah Shaar on Twitter @deborahshaar. To contact KMUW News or to send in a news tip, reach us at news@kmuw.org.