UPDATE: Harvey, Reno County Fire Controlled, Contained Overnight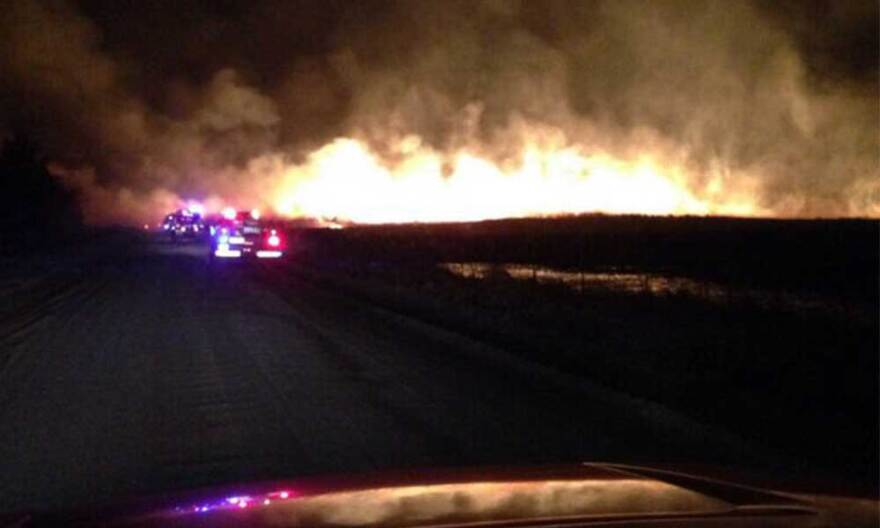 Update:
Friday March 25, 9:30 a.m.
Crews in Harvey and Reno Counties were successful in keeping the fire controlled and contained overnight. Melissa Flavin with the Harvey County Sheriff's Office says crews will be focusing on monitoring the remaining fire and its response to potential weather and wind changes, which can cause additional flare-ups with hot spots within the fire area.
"We have estimated that there has been a combined total of around 14,000 acres burned within Reno and Harvey County," Flavin said.
No additional injuries or structure losses have been reported.
Flavin said officials are continuing to ask civilians to obey road barricades and stay out of the affected area. Flare-ups could occur at any time as weather conditions shift.
Anyone interested in donating items for the relief efforts, should visit the "Community Chaplain Response Team" Facebook page for an up-to-date list of needed items.
-------
Update:
Thursday March 24, 4 p.m.
Crews have contained the fire to two areas and while winds continue to cause problems, the blaze remains around 15 square miles in size. As the winds continue through the evening hours and overnight, units will continue to monitor and adjust their approach accordingly to prevent flare-ups and flying sparks from the fires.
Melissa Flavin with the Harvey County Sheriffs office says the primary focus is on protecting residences and outbuildings.
So far, throughout the course of the fire, there have been 44 different agencies assisting with this incident. Last night alone, there were 20 different Fire Departments present with over 100 personnel.
The only reported injuries in Reno and Harvey Counties are two firemen that were treated and released from the hospital Wednesday night with debris in their eyes.
Flavin says a total count on the number of outbuildings that have been lost in the fire has not been determined and will likely not be available until the fire is out and units are able to survey the total damage. She confirmed that a single residence was lost to the fire on Sand Hill Road.
Anyone interested in donating items for the relief efforts, should visit the "Community Chaplain Response Team" Facebook page for an up-to-date list of needed items.
-----
Original Story:
Multiple fires prompted evacuations in Harvey and Reno Counties Wednesday night. These are separate from the much larger fire currently burning in Comanche and Barber Counties. Two active fires are currently burning northwest of the city of Burrton.
On Thursday morning, Reno County Fire Chief Kim Forbes said changing winds have caused irregular burn patterns, and the fires are continuing to grow. Forbes said the cause of the blaze, which has affected a mostly rural area, is unknown. Flames were reported just before 3 p.m. Wednesday. Forbes said that when Reno County crews arrived, strong winds had already spread the fire a mile and half and one home was deemed a total loss. A second structure was also heavily damaged. Residents in Reno County were allowed back in their homes around 9 p.m. Forbes estimates around 10 people were affected.
The Harvey County Sheriff's office said no structures are in immediate danger, and no more evacuations are anticipated Thursday morning.
The National Weather Service says wind gusts of up to 50 mph were reported early Thursday in Wichita. Winds had died down to 30 mph around daybreak and are expected to continue losing strength throughout the day.
--
Follow Abigail Wilson on Twitter, @AbigailKMUW
To contact KMUW News or to send in a news tip, reach us at news@kmuw.org.