Behind 'Juvenile In Justice': A Discussion With Photographer Richard Ross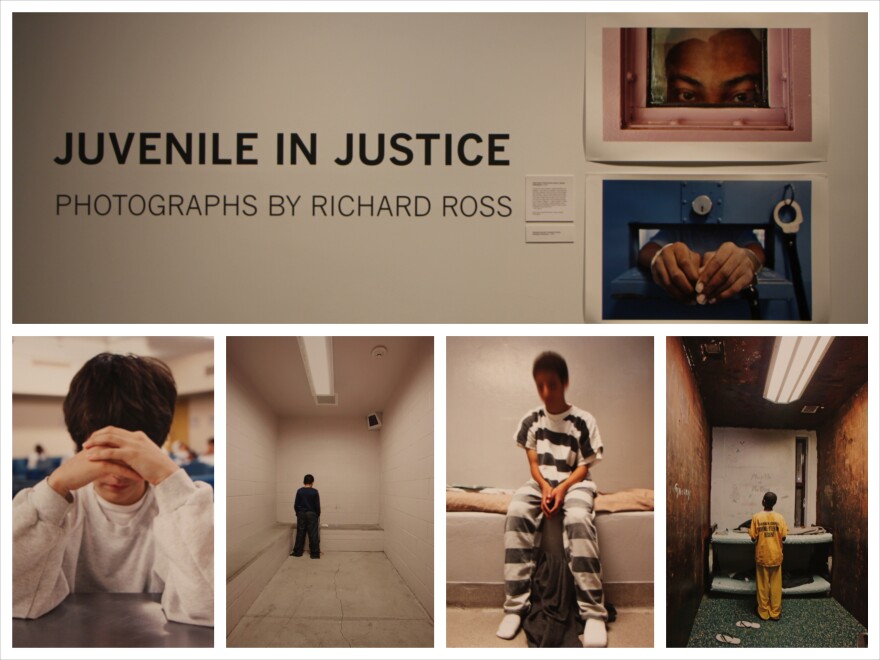 There are about 70,000 young people in juvenile detention centers or correctional faculties in the United States. Richard Ross spent the past seven years documenting the lives of American juveniles who have been housed in these facilities that treat, confine, punish, assist, and, occasionally, harm them. The culmination of this work is a project titled Juvenile in Justice at the Ulrich Museum of Art at Wichita State University. The exhibit includes 60 large scale images, including some from four counties in Kansas. Aileen LeBlanc talked to Ross about his work.
"I was in Rosemead, California," Ross says. "I asked the director what percentage of girls in custody had been sexually abused and he looked at me like I was crazy. He said every one of them."
"I lived with my grandmother for about a year. They had my mom away from me...she was doing heroin and crack. I don't do drugs. Don't really like them. There are no charges against me. I'm here because I am a material witness and I ran away a lot. " B.B., Sedgwick County Juvenile Detention
"I went to school next door to this place for eight months. When I went back to regular school I got in a fight in three days. A kid was calling my mom bad names. I punched him and left school and started beating up a car. Cops came for me and I wouldn't put on my seat belt when they put me in their car. So that was another violation. I told them I didn't want to come back here...but here I am. I've been here a week and have a week to go. I'm "sanctioned" for two weeks." - N.R., Douglas County Juvenile Detention, Lawrence, Kan.
Each floor is one mile around. The basketball court gives a sense of scale.
"The skills they learn are how to say 'sir, yes sir,'" Ross says. "It's a world that teaches kids how to be accountable to a very clear and mapped authority."
"When I started, I realized kids as young as seven can be taken into custody... into institutions like this. I felt nobody was paying attention to this and nobody knew this existed," Ross says.
" I got kicked out of school for partying and truancy. I use meth. They have had me here for two weeks. I think they keep me here because they think I am a risk of hurting myself. When they come in, they come in, they don't knock or anything." - C.T.
Juvenile in Justice is at WSU's Ulrich Museum of Art until Sunday, April 13.
This story originally aired on Morning Edition on Feb. 28, 2014.
----------------------------------------------------------------------------------
KPTS Public Television featured "Juvenile in Justice" on their Impact show. You can watch it here: