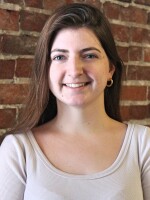 Celia Hack is a general assignment reporter for KMUW. Before KMUW, she worked at The Wichita Beacon covering local government and as a freelancer for The Shawnee Mission Post and the Kansas Leadership Center's The Journal. She is originally from Westwood, Kansas, but Wichita is her home now.
Celia can be reached by email at celiahack@kmuw.org.
The city has been working to dispose of its 352 single-family public housing units since January 2022.

A proposed project near Maize and Colwich has raised concerns among neighbors about environmental and economic impacts.

The regulations follow a 2021 shooting at an Airbnb in Crown Heights, where one person died and three were injured.

In the past two decades, the number of Buddhist congregations in the Wichita area has roughly doubled.

State law makes it illegal for landlords to retaliate against tenants for complaining to city inspectors, but there is no enforcement agency.

The building would include the Juvenile Residential Facility, which is less restrictive than the Juvenile Detention Facility, and several other alternatives to detention.

From housing to police reform to economic development, young voters have a variety of priorities they want the Wichita City Council and mayoral candidates to address this election season.

More competition for labor, fewer kids and immigration policies are all slowing growth, according to Wichita State's Center for Economic Development and Business Research.

The Trust Women Clinic, a local abortion provider, said it called police this morning after noticing a suspicious package outside the building.

Dalton Glasscock won 50% of the vote, while Judy Pierce took the next-biggest share at 24%.