Lucinda Williams Remembers Father, Past With 'The Ghosts Of Highway 20'
Many artists begin their careers without support from their family.
But songwriter Lucinda Williams says her father was especially encouraging of her musical career. She's even found a way to remember him in her songs.
The Ghosts of Highway 20 is the latest release from the acclaimed singer-songwriter. In many ways, the record follows her early life. Her family moved frequently in her formative years, touching down in many of the towns and cities along Highway 20. The family eventually settled in Fayetteville, Arkansas, where her father had landed a teaching job.
"When you first start out teaching, until you achieve tenure—which he finally got at the University of Arkansas—you teach for a year or two here and a year or two there," Williams says. "It's sort of like being in the military."
It was during those years in Arkansas, when Williams was in her late teens, that she began her musical career in earnest. While visiting her mother in New Orleans, she landed a gig at a club there called Andy's. Knowing that her father wanted her to finish her education, she called him in order to discuss her decision to stay in the Crescent City. That phone call, she says today, was not as difficult as some might imagine.
"It was the first regular gig I'd ever been offered. It was just for tips, but it was a big deal," she recalls. "I said, 'I want to stay here and do this instead of go back to school in the fall.' He said, 'OK, if that's what you want to do.' That was probably the biggest turning point right there."
Williams acknowledges that having parental support made a significant difference in her career outlook.
"The only thing he was concerned about was that he wanted me to have something to fall back on," she says. "He was right about that because I didn't have anything to fall back on! I had every intention of going to college and majoring in something and getting a degree and all of that. But the music thing was already in my veins. But my dad, being a poet and all, he understood the creative yearning that I had. The artistic thing. I think he probably figured, 'Well, she can come back later and go back to school.' I was still young enough to be able to do that."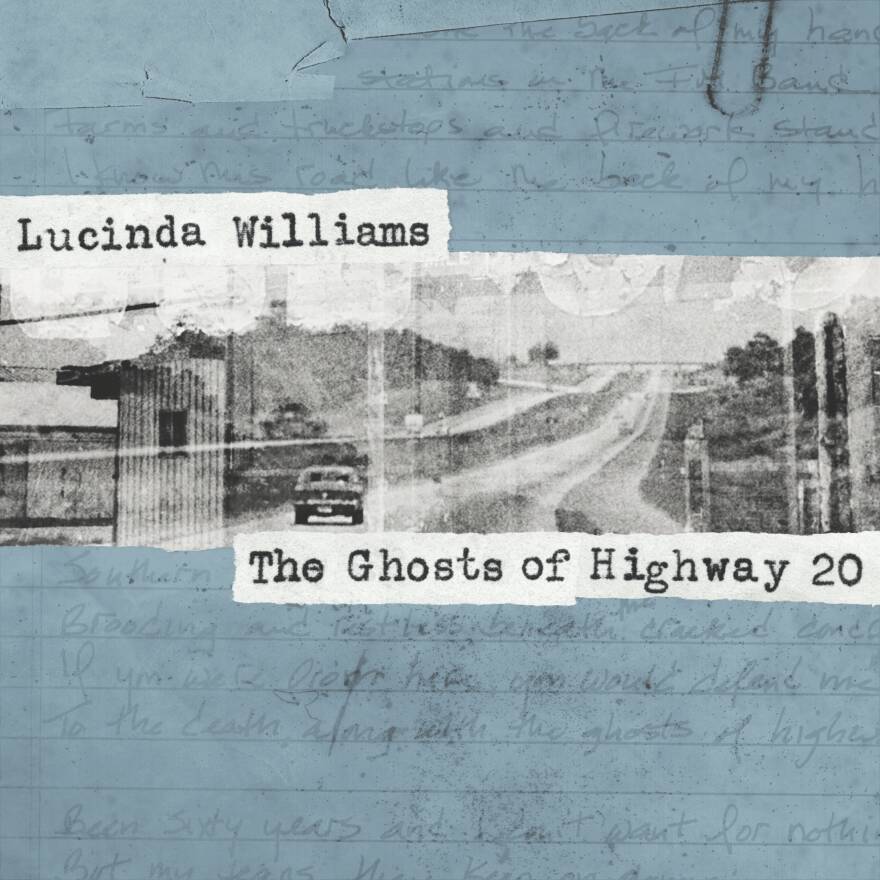 Williams maintained a strong relationship with her father, the poet Miller Williams, and The Ghosts of Highway 20 contains one song, "Dust," that's adapted from his poem of the same name.
"I'd always wanted to take one of his poems and turn it into a song," she says, "and for years I struggled with that. One of his poems that I was trying to work on is called 'Why Does God Permit Evil', but it's a much longer, more complex poem. So the first one I worked on was 'Compassion' from Down Where the Spirit Meets the Bone. He heard 'Compassion' before he died. I played it for him. He never was able to hear 'Dust', but I think he would've liked it."
Williams also found time to cover Bruce Springsteen's "Factory" on The Ghosts of Highway 20, a choice that was inspired by her husband and manager, Tom Overby.
"He connected with it—and I connected with it—because his father worked in a factory for 30-plus years," she says. "It was in a little town, Austin, Minnesota. I've seen it, and it's so similar to that song. Tom's father passed away a couple of months before mine did. It was during the time that we were recording. We were cutting all kinds of stuff, real spontaneously, so we did that song and wanted to put it on the album as a tribute to Tom's father."
The Ghosts of Highway 20 is out now. Williams performs at the Stiefel Theater in Salina on Saturday, Aug. 20.
--
Jedd Beaudoin is the host of Strange Currency. Follow him on Twitter @JeddBeaudoin.

To contact KMUW News or to send in a news tip, reach us at news@kmuw.org.