Taps: The Hardest 24 Notes
Emerson's bugle and trumpet.
Courtesy photo.
Tim Emerson standing in the Winfield Veterans Cemetery in Winfield, Kansas. Taps that day was for Air Force Veteran Technical Sergeant Clarence Benson.
Courtesy photo
A close up of Emerson's Getzen field trumpet.
Abigail Wilson
This story originally aired during Morning Edition on 05/25/15.
A Marine Corps veteran in Wichita volunteers his time to play what many call the hardest 24 notes a musician will ever play: taps. Few melodies are as easily recognized or emotional as the tune, which is standard at military funerals.
Today, there are so few buglers available that the military services cannot always provide one. KMUW's Abigail Beckman presents this sound portrait with Tim Emerson, who is a member of Bugles Across America.
"I graduated from high school in 1987, started at Wichita State University immediately thereafter and left for a time to join the military. I served in the reserves in the Marine Corps and served on active duty for about a year and a half."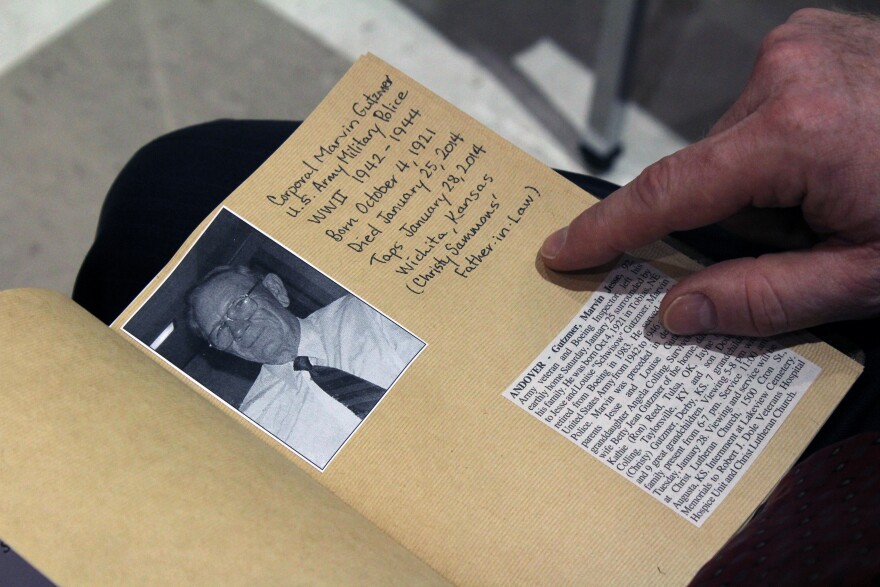 "Meeting family members and knowing about who it is that you're honoring that day is pretty important. I recognized the significance of that, so I decided that I would start keeping track.
After I do an honor guard, I will write their name and what their rank was; what branch of the service it was that they served in. If I know their date of birth, anything about their service, I'll write that down as well."
"Patrick Featherby was a young man who I grew up with who died relatively recently and I had heard about his death on social media right around the same time that Bugles Across America sent me the request to play taps at his funeral."
Bugles Across America was founded in 2000 by Marine Corps Veteran Tom Day, when Congress passed legislation stating that veterans have a right to at least two uniformed military people to fold the flag and play Taps on a CD player. According to the organizations website, Bugles Across America was founded to take this a step further.
"In recognition of the service these veterans have provided to their country, we felt that they each deserve a live rendition of taps played by a live bugler. To this end, we are actively seeking capable volunteers to provide this valuable service to veterans and their families."
Bugles Across America has over 5500 bugler volunteers located in all 50 states and growing number overseas. There are 33 buglers registered in the state of Kansas.
--
To contact KMUW News or to send in a news tip, reach us at news@kmuw.org.
Follow Abigail Wilson on Twitter @AbigailKMUW