Federal Court Rules Against Kansas In Voter Registration Lawsuit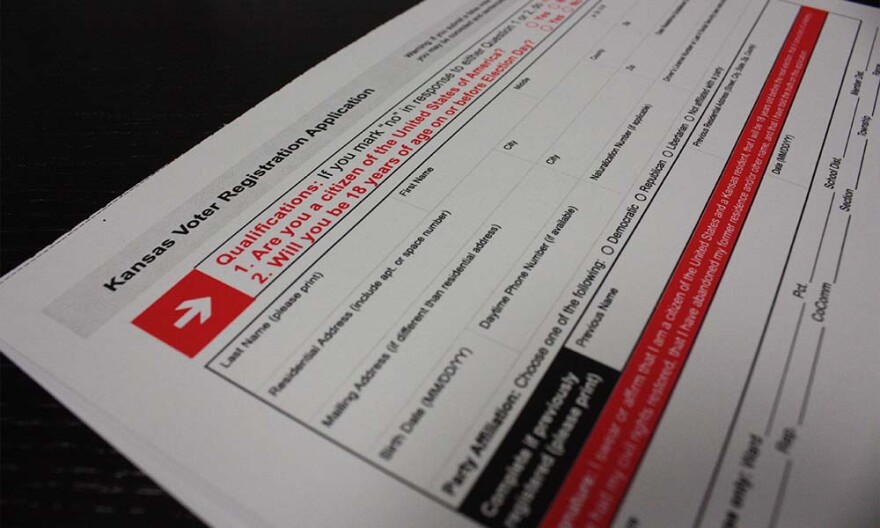 Updated Wednesday, 3:35 p.m.
A federal court says the state of Kansas went too far by requiring people registering to vote at the DMV to prove their citizenship. The document requirement has put thousands of voter registrations on hold.
A federal judge in Kansas City says people who register to vote at the DMV cannot be forced to show proof-of-citizenship documents because that goes beyond federal rules. The judge says thousands of people whose registrations are on hold should eligible to vote in federal elections. They still wouldn't be able to vote in state elections.
The document requirement was put in place to prevent fraud, but critics say it is blocking thousands of eligible voters.
The judge put the ruling on hold until the end of the month. Kansas Secretary of State Kris Kobach, who pushed for the voter registration requirement, says he will appeal. The state has until the end of the month.
Officials with the American Civil Liberties Union are expressing confidence their case against Kansas will prevail.
Micah Kubic with the ACLU of Kansas told KCUR's Steve Kraske on Up To Date today the federal law is intended to make voter registration easier.
"Kansas went out of its way to make it really, really hard," Kubic said. "This proof of citizenship requirement is really about submitting your birth certificate or passport, documents that can be really hard to obtain."
Kubic says thousands of Kansans could be potentially disenfranchised with the rule.