Riverfest 2017: Wichita Prepares For 'River Madness'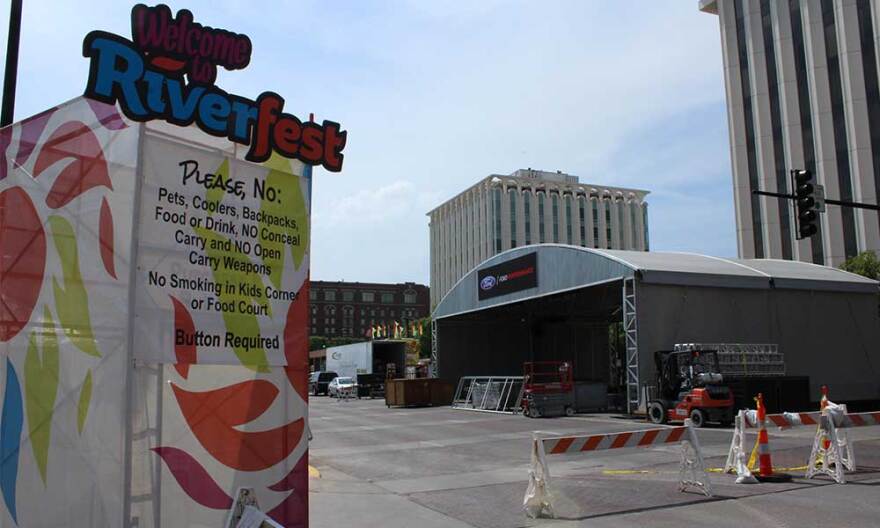 Thousands are expected to participate in the annual Riverfest in downtown Wichita. The event kicks off on Friday night with the Sundown Parade. Riverfest is considered one of the top 40 largest outdoor events in the world.
KMUW's Carla Eckels talks to Wichita Festivals President and CEO Mary Beth Jarvis about the nine-day celebration filled with concerts, food and other attractions.
Below are highlights from their conversation. You can hear the full piece at the audio link above.
On some of the highlights of this year's Riverfest:
This year's theme for the 46th Riverfest is "River Madness." We've got some folks who are particularly excited about the 29 river events, and it looks like we might have a river and a current that'll cooperate with us. For nine days a year, we actually get to be out on our river downtown: paddle boats, canoe, kayaks, see a professional jet ski race, take a river tour with the Wagon Masters. All of those activities are free with your button. So that's one piece people are excited about.
The other piece is we've got amazing performances, and some of those are national headliners that folks are anxiously awaiting to see. From the Flaming Lips to Common to Mavis Staples and OK Go along with Low Cash and other artists. We're also excited about our local performances. This is a chance, for the price of a Riverfest button, to get to see the very best of what we have, and that's the Wichita Symphony Orchestra, Music Theatre of Wichita and other music theater and performing groups around Wichita.
On some of the new events:
There is a total of 120 events with lots of traditions from fireworks, concerts to the parade. [Some of the] new things we've upped are a number of events that emphasize science, technology, engineering and math...educational opportunities for kids. We've also got some tech-oriented events, a new comic book convention, a Craftaplooza marketplace, [and] some entrepreneurial-focused events, which are new this year. We're really trying to make sure that everyone can see something for them in our festival.
On the new policy for outside food and drink:
Our broad policy is that no outside food and drink is allowed. The bottom line is we can't vouch for the content or origin of containers or items that you bring into the gates, and we need to make sure that everything on site is safe including beverages non-alcoholic and alcoholic.
But we make exceptions to that policy. One is that if you got baby food or bottles, or foods or medicines you need to bring for special needs, those will be allowed. You will just have to have them checked. We also will allow in sealed water bottles, so a full still sealed from when you purchased it water bottle you can bring on in and that way we want to try to strike a balance between keeping everyone safe and secure and also making sure that we are as accessible and friendly as possible to attendees.
--
The 2017 Riverfest has a new app that can be downloaded on iPhone or Android. Attendees can receive real-time information on weather changes or any last-minute additions to performance schedules.
The festival kicks off with the Sundown Parade on Friday, June 2, at 6:30 p.m. A Riverfest button can be purchased at QuikTrip or at the festival gates.
--
Carla Eckels is assistant news director and the host of Soulsations. Follow her on Twitter @Eckels.
To contact KMUW News or to send in a news tip, reach us at news@kmuw.org.