NPR and KMUW are thoroughly committed to monitoring COVID-19 activity and its potential impact on your lives. We are continually updating kmuw.org with the latest news.
City Council Extends Wichita Mask Requirement, But Sets 'Exit Ramp'
Wichita's mask requirement has been extended only until Oct. 21 — though it could end sooner than that.
City Council members voted Tuesday to extend the ordinance a second time with what Becky Tuttle called an "exit ramp."
The ordinance will be lifted if two health metrics are met: if COVID-19 hospitalizations fall, and if Sedgwick County's positive test rate hits 5%. It's currently just less than 8%, down from a peak of 14% in late July.
"If we get the two metrics, we're out," Tuttle said. "October 21, we're out."
The city first approved the mask mandate on July 3 — requiring face coverings in public spaces, with several exemptions for kids and residents with certain medical conditions — after county commissioners adopted a similar policy only as a recommendation, with no enforcement. The city's ordinance includes penalties for violations, though the council noted police haven't written any tickets.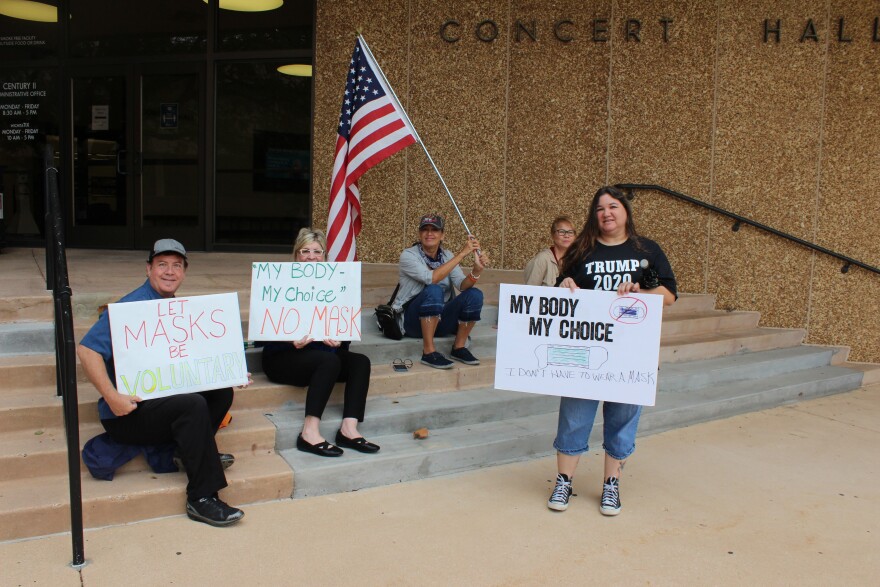 The council heard several hours of public comment on Tuesday calling for an end to the mask requirement. An event organized by a group calling itself "Unmask Wichita/Sedgwick County" drew more than 100 speakers to go on the record opposing the mandate. But some council members pointed to a falling number of confirmed cases of COVID-19 as a sign that masks are working.
"One thing that has been consistent that we have seen is that these masks have seemed to be helpful," said council member Brandon Johnson. "Since the orders went into place we've seen [a reduction] in cases, or stabilization, up until recently.
"The assumption that they were supposed to stop this is wrong. It was always about reducing."
Tuttle said her support was based less on her background in the health sector and more on the economic benefit of masks.
"The only way businesses are going to stay open and less people will be unemployed is if we continue to monitor this," she said. "I want to keep schools open and I want to keep businesses open, and I think this is probably the best that we have right now."
Council member Bryan Frye, who along with members James Clendenin and Jeff Blubaugh voted against the original ordinance and its first extension, voted in favor Tuesday.
"If we can put these metrics in place, then our ordinance ceases to exist once those metrics are met, then we move on," he said.
Otherwise, "we're setting ourselves up for just having more divisiveness, more division in the community, when it's not our lane."
Frye and Tuttle argued any decision about masks should be made by the county commission, which also serves as the local board of health.
"This is work that I think most of will agree we probably shouldn't have got into, and we're into for consistency and because we're seeing what we wanted to see," Tuttle said, "but it's time for us to hand the work over to the board of health.
"It's not that things will go away to protect our community, it's just who's responsible for it."
Blubaugh and Clendenin remained opposed to the mask mandate altogether and voted no.