Wichita Festivals CEO Steps Down, Says Future Of Large-Scale Events Is 'Uncertain'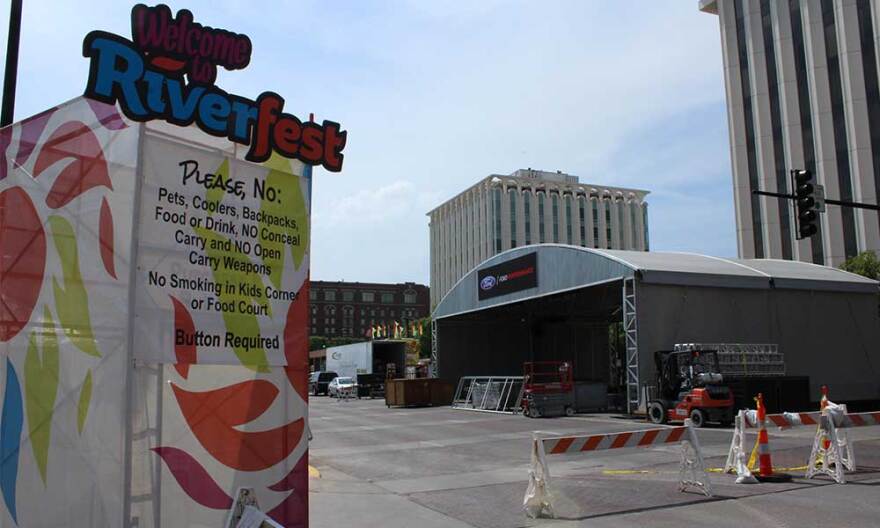 The CEO of Wichita Festivals is stepping down after 10 months on the job as the organization faces a financial crisis because of the pandemic.
Ty Tabing says revenue has declined 90 percent since it had to cancel the 2020 Wichita Riverfest. The board of directors this week accepted Tabing's proposal to eliminate his position and two others with the organization — a third of its staff overall.
Tabing says his role and an account manager position had previously been vacant.
"I just kept going back to the fact that these two positions could be eliminated and the office could still get done what it needs to get done," he said.
Tabing joined the nonprofit in November, months before the COVID-19 pandemic hit the U.S. and Wichita.
He says the organization struggled financially after it was forced to cancel the 2020 Riverfest.
"[We've] done everything we can to eliminate costs, pursue every grant and loan that's out there," he said. "The reality is that the future of large scale events and the ability for large groups to gather again is very uncertain."
This week's Autumn and Arts Festival went virtual, and another outdoor festival celebrating Wichita's birthday planned for this November has been postponed.
The "Wonderfall" event was announced at the same time of the Riverfest cancellation, Tabing said, "back in the naivete of what this pandemic was all about."
"At the time we thought we would be on the other side of the pandemic for this event."
Under Tabing, Wichita Festivals developed a five-year strategic plan that includes ways to diversify its events and its revenue sources.
"We hope to really kind of put those things into action so that we can remain viable and continue to host and produce incredible events like Riverfest," said incoming board chair Shane Stuhlsatz.
He says he'll take on some leadership roles in the interim; the organization doesn't plan to hire a new CEO immediately.
"Quite frankly we didn't want to rush into any sort of solution without really making sure that we were making the best use of our resources and our finances," Stuhlsatz said, "and insuring that we're spending our money wisely."
Wichita Festivals will launch an emergency fundraising campaign next month. Stuhlsatz says he's optimistic the community will step forward to support the organization.
"Nearly everyone in Wichita has had some sort of exposure to a Wichita Festivals event," he said. "We've partnered with the city for things like Open Streets and been part of many Wichita events, and I don't see that changing.
"What I do see changing is what those events may look like in the future."